Canopies & Tents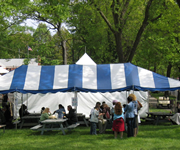 Our Clean, Quality Tents Make Every Event Special!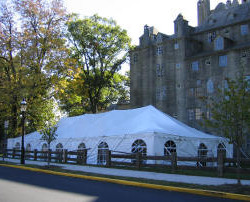 Shelter your guests from Sun and Rain with our Beautiful Pole Tents or Frame Tents. We offer a variety of Tent sizes to suit your individual requirements.
We can accessorize your rental tent with flooring, carpeting, portable dance floors, fans, lighting, air conditioning and heating. Tent Sides are available with cathedral windows, opaque, clear, mesh or sliding.
A to Z Party Rental can furnish the interior of your tent. Choose from an assortment of banquet tables, chairs, linens, etc.
Customer Installed Canopy Tents:
Canopy Tents are a light weight structure and GREAT for protection form the sun or light rain. To protect your guests from the elements, add a side wall to your canopy rental. Canopies are to be installed and removed by you, the customer. The only canopies capable of placement on asphalt or concrete are the 10×10 and 10×20 canopies.
Canopy Tent Sizes and Colors Available:
Professionally Installed Tents:
The following tents can only be installed by our specially trained staff.   To ensure your satisfaction, our special event coordinator will inspect the site to confirm the quoted tent is the accurate size for your event location.
These tents are priced according to size, distance to travel and accessibility to tent site. For information on the following, contact A to Z Party Rental 215-646-6777.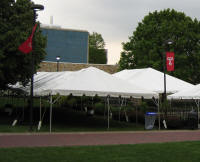 Frame Tent Rental: This free standing Tent features no center poles!  Perfect for installation on uneven surfaces, concrete, blacktop and deck installations.
Frame Tent Sizes:  15×15, 16×16, 16×24, 16×32, 20×20, 20×30, 20×40, 20×50, 20×60, 30×30, 30×40, 30×50, 30×60, 40×40, 40×60, 40×80, 50×50, 50×60, 50×65, 50×75, 50×80, 50×90, 50×95, 50×105, 50×110, 50×120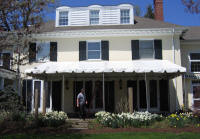 Pavilion Awning: (Deck Awning) Ideal frame structure for covering patios and decks or extending space off buildings.
Pavilion Awning Sizes: 12×15,12×22, 12×30, 12×37, 12×45, 14×7, 14×15, 14×22, 14×30, 14×45.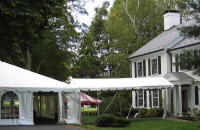 Marquee Tent:  Use to define an entrance to tent or building or to connect two tents together. Each section is available in 6×10 and/or 9×10.
Marquee Tent Sizes: The length can be adjusted by adding additional 10′ long sections. Example: 9×10, 9×20, 9×30, etc.   Special Cut Widths & Lengths are available upon request.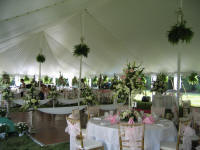 Pole Tents:  Center Poles as interior supports provide this style tent with endless decorating possibilities and enough space for any major event.
Pole Tent Sizes:  20×30, 20×40, 20×50, 20×60, 20×70, 20×80, 30×30, 30×45, 30×60, 30×75, 30×90, 30×105, 30×120, 30×135, 30×150, 40×40, 40×60, 40×80, 40×100, 40×120, 40×140, 40×160, 40×180, 40×200, 60×60, 60×80, 60×100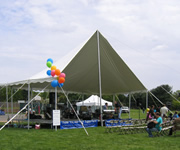 Stage Tents: Keep your performers and their equipment protected.
Stage Tent Sizes: 30′ Wide x 15′ Deep  and   40′ Wide x 20′ Deep
Tent Sides available: Cathedral Windows, Café, Clear Opaque, Mesh, and Sliding